Sun Paradise under the auspices of Arena would like to congratulate all the winners in the recently concluded SUKMA XIX hosted by Perak. This edition of Sukma witnessed many upsets and surprises just as synonymous with any high-level competition. A number of performing young first-timers accomplished podium finishes. Domination of gold medal wins was not present in the men's division but 5 Sukma records plus 1 national record tumbled. With women swimmers, domination by a relative few was evident. Here we accord noble attention and recognition to the cream de la cream.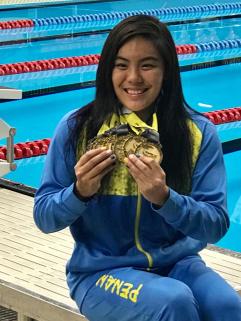 The most accomplished and distinguished swimmer of Sukma XIX was Penang's Elynn Tan who took home 5 gold medals from her individual events. She alone was responsible for almost 85% of Penang's golden haul and won the 50m & 100m freestyle, 50m & 100m butterfly and 50m backstroke races. Her brilliant performance vastly outdid her two gold wins in the previous biennial Sukma hosted by Sarawak in 2016. As a matter of fact, she had returned from the United States after she had been in Iowa State University for only a month, to perform her sporting duties for Penang state.
Two other women's division swimmers who won a praiseworthy 3 gold medals each were Angela Chieng - Sarawak in 400m & 800m freestyle and in 200m butterfly; and Alicia Li Ann Soosai - Johor who made a clean sweep of all three breaststroke events. Nadia Adrianna Redza - Selangor dominated individual medley winnings in the 200m and 400m IM races.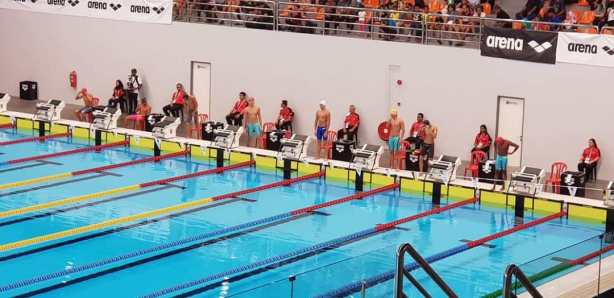 Meanwhile, all the top performers in the men's' division won 2 gold medals each for their respective individual events. The youngest "golden boy" was 16-yr old Steve Khiew of Wilayah Persekutuan who took gold for the 100m and 200m backstroke events.
Other top finishers in terms of gold wins were Jordan Yip-Selangor (50m backstroke, 200m IM), Keith Lim-WP (50m, 100m freestyle), Arvin Shaun-Terengganu (400m, 1500m freestyle), Ng Jing Fu-Selangor (100m, 200m breaststroke) and Tia'A Fang Der-Johore (400m IM and 200m butterfly)
Tia'A set a new national record for 400m IM and a new Sukma record for 200m butterfly; whereas Keith Lim and Ng Jing Fu set new games record for 50m freestyle and 200m breaststroke respectively. Another meet record was set by Fong Wei Tze - Melaka for the 50m breaststroke event.
In the relay events Team WP set a new record for the men's 4x200m freestyle relay. They also won gold for 4x100m freestyle while Selangor took the gold for 4x100m medley relay. However in the women's division, Selangor made a clean sweep of all three gold medals in the women's division relay events.